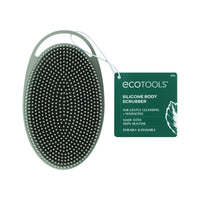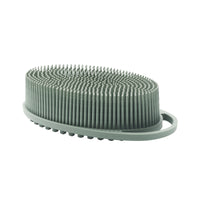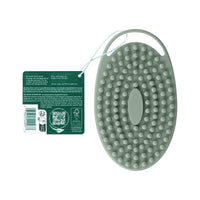 The EcoTools Silicone Body Scrubber gives you the 2-in-1 benefit of gentle cleansing and massaging for a relaxing experience and a full-body clean. Our silicone scrubber is super durable and easy to use. Just add your favorite body wash, cleanser, or scrub, then use the bristle side for gentle cleansing and the massage side for a soothing experience. When you're finished, just hang to dry! The body scrubber is made with 100% premium silicone and is reusable for up to 30 days, making it a great, eco-friendly choice. Designed with everyone's needs in mind, EcoTools' superior assortment of self-care items are accessible luxuries, good for you and the planet. As with all our EcoTools products, our Silicone Body Scrubber is 100% cruelty-free and vegan.
The EcoTools Silicone Body Scrubber is a durable body cleansing option that soothes the skin while gently washing away dirt and impurities,Use bristle side for gentle cleansing and textured side for massaging the skin,Silicone scrubber can be used in the bath or shower with body washes, cleansers, and scrubs ,Reusable and more durable than your average loofah,Created with a handle to hang for easy drying,Self-care bath accessory for both men and women,Body scrubber made with 100% premium silicone,Eco-Friendly, FSC certified, compostable paper packaging*,100% Cruelty-Free and Vegan- EcoTools products are never tested on animals,Made with recycled materials - EcoTools believes in reducing waste by using recycled aluminum and plastic in our products
Use bristle side for gentle cleansing, and massaging side for a relaxing experience. Wet the scrubber and add body wash to cleanse and massage the body.
Rinse and hang to dry. Replace every 30 days.Discontinue use if irritation occurs.