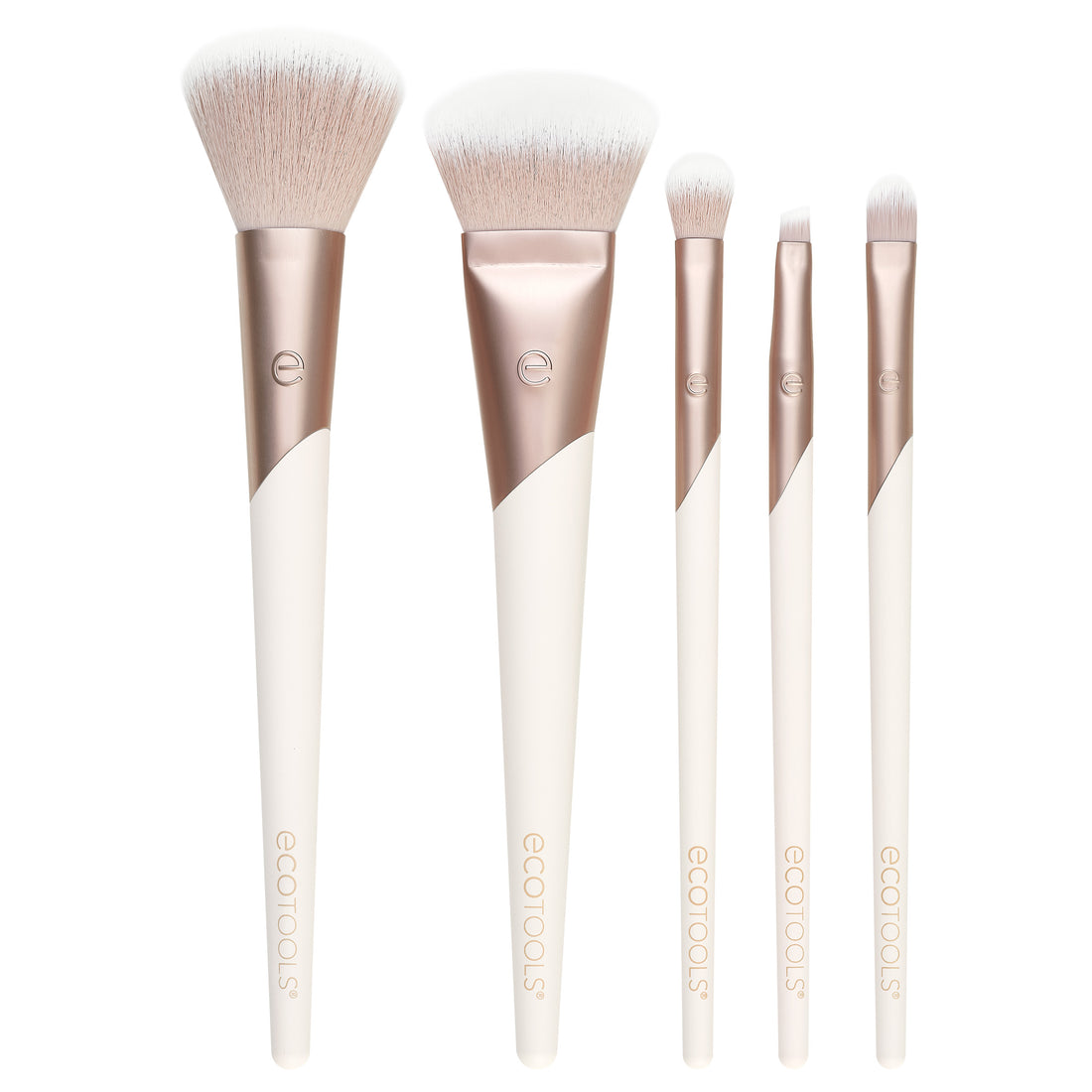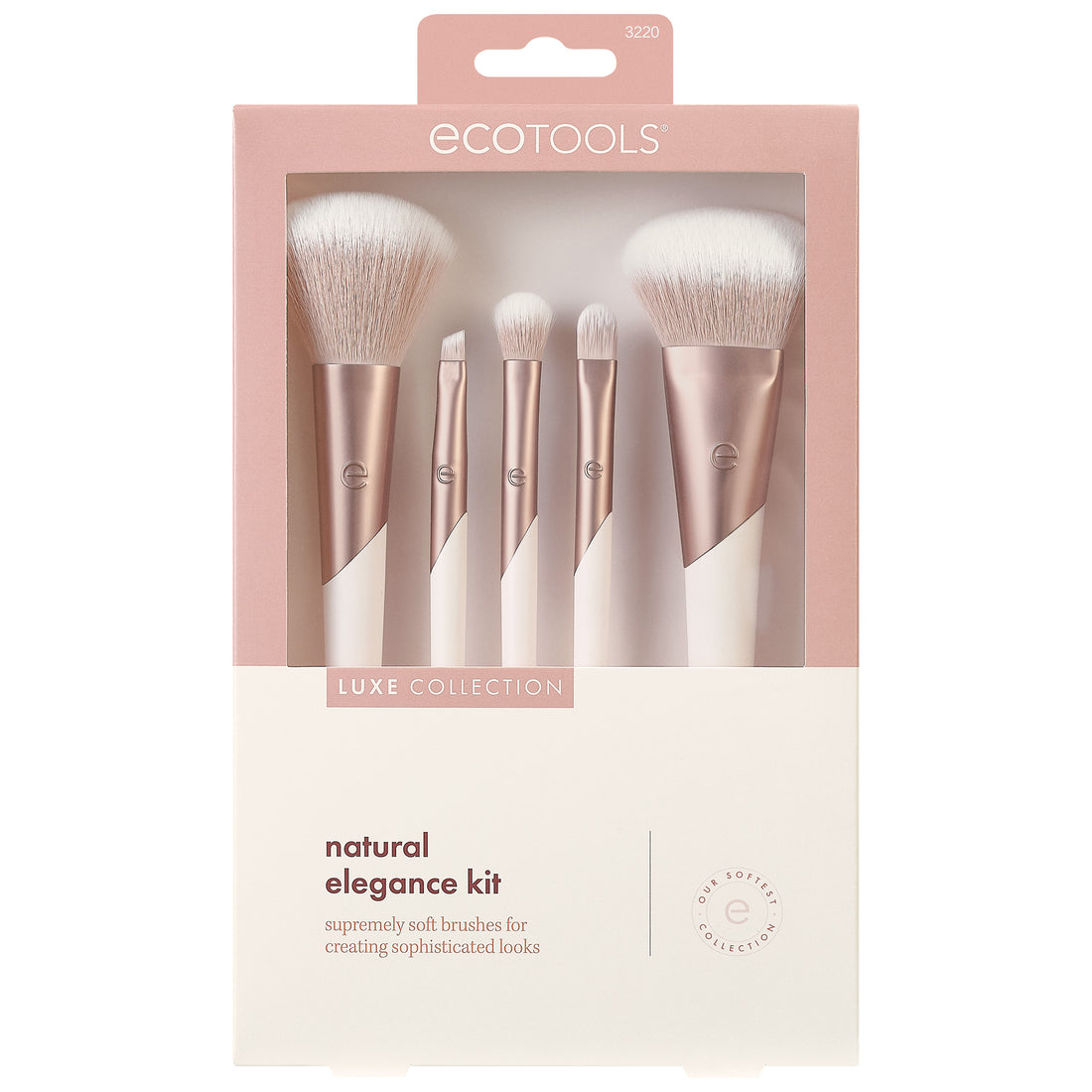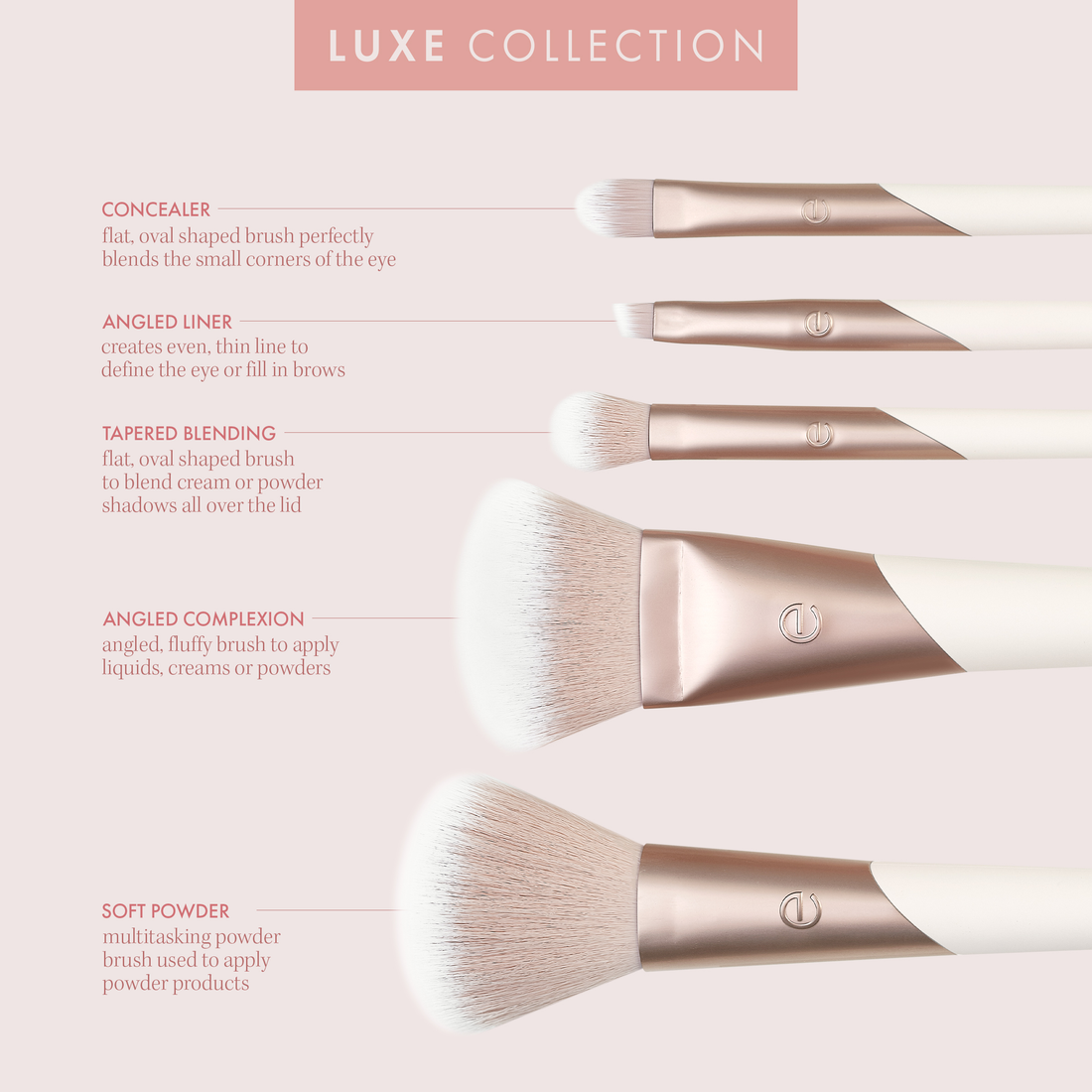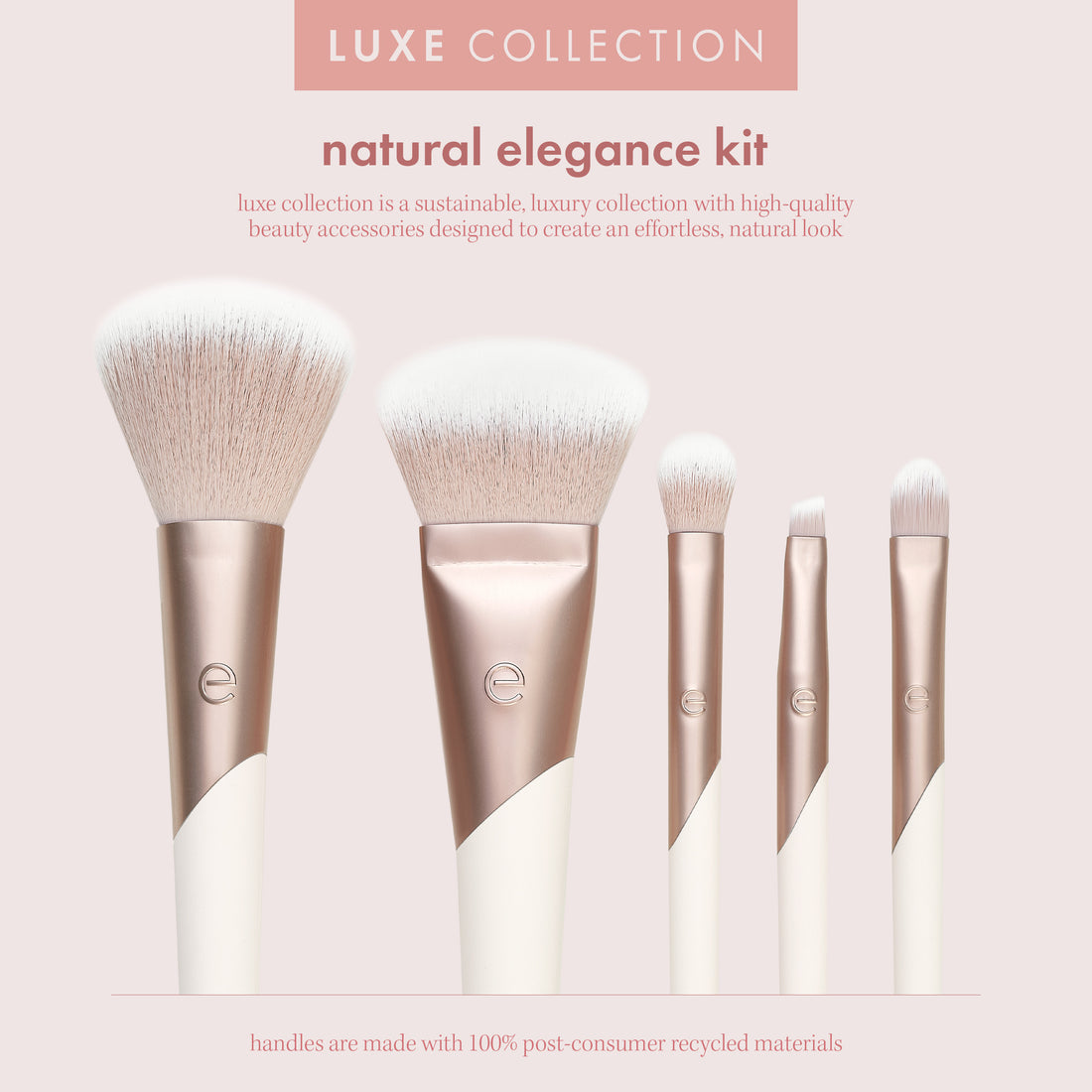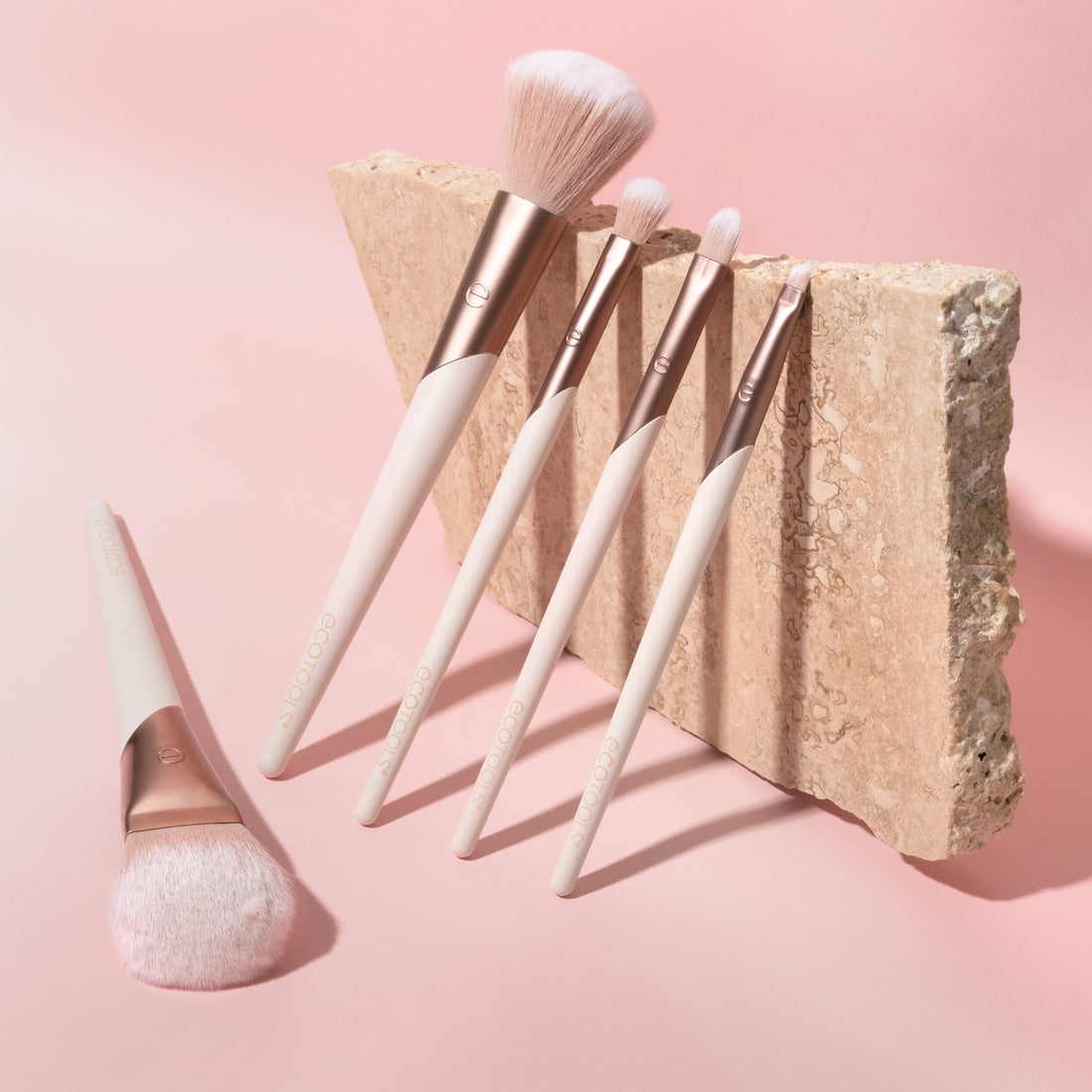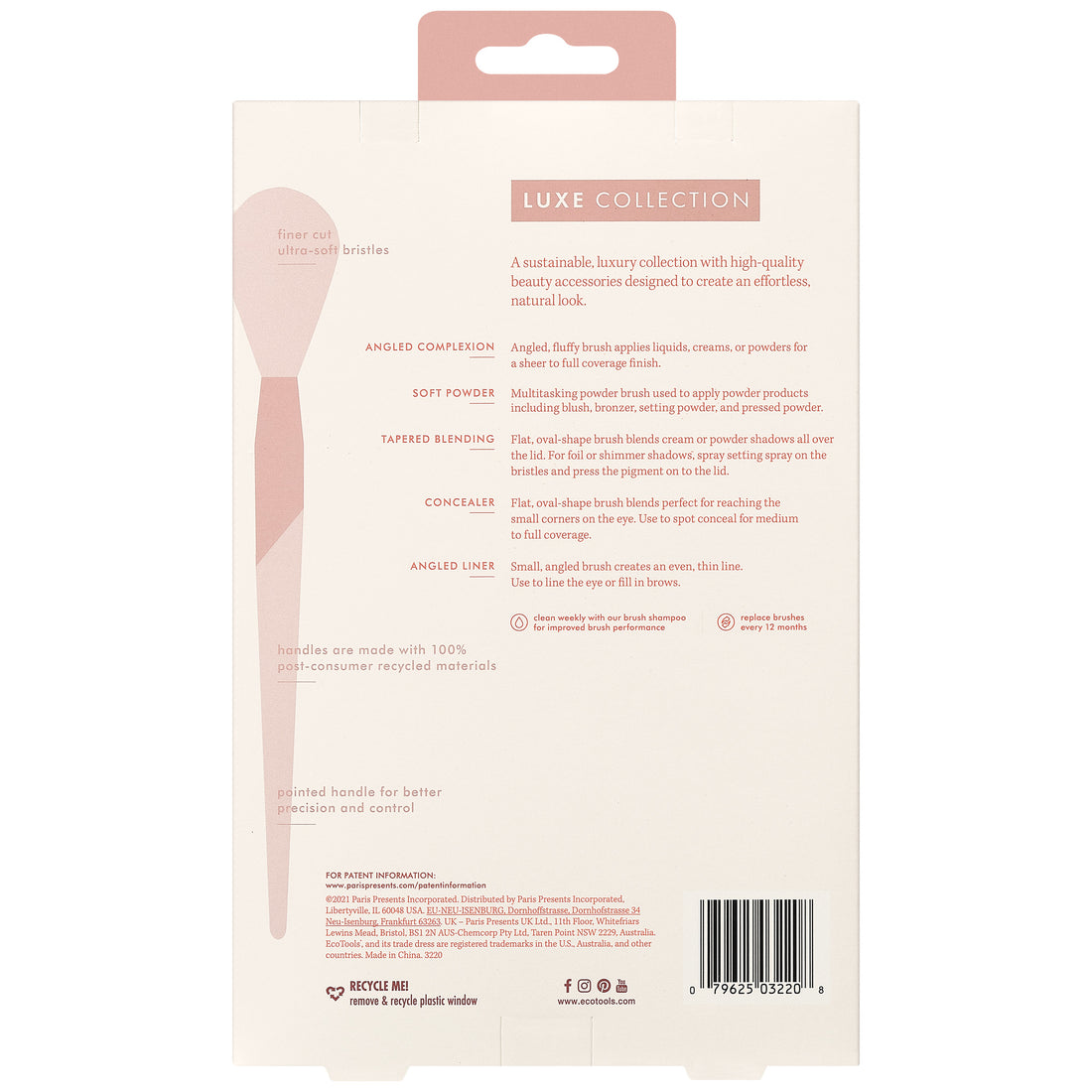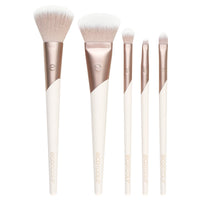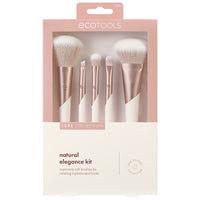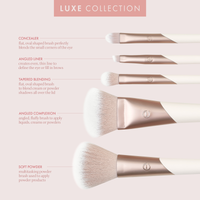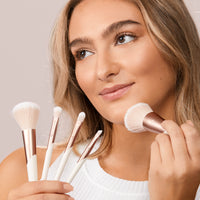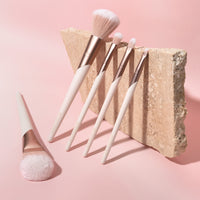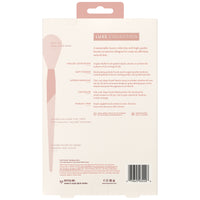 Luxe Natural Elegance Kit
EcoTools Luxe 5-Piece Natural Elegance Makeup Brush Set has luxurious, soft bristles for creating a full-face professional look with an angled liner brush, flat shading brush, tapered blending brush, angled complexion foundation brush, and a soft powder brush. Pair this makeup brush kit with your favorite foundation, concealer, powder, cream, eyeshadow, brow pomade, and gel liner for a complete makeup brush set. These high-quality makeup brushes are eco-friendly, vegan, 100% cruelty-free, and PETA certified. Pro-Tip: Spray your makeup brushes with setting spray to increase the pigment or to add shimmer. Our makeup brush kit is part of the Luxe collection of sustainable beauty skincare accessories used for making effortless, natural looks with the softest bristles. The EcoTools Brushes feature our signature smooth, renewable bamboo handles, synthetic Taklon bristles, and sleek ferrules made with recycled aluminum for a clean beauty experience. Achieve a streak-free look with buildable coverage that is not animal-tested and completely vegan! Whether you use them for the eyes, blush, foundation or to travel with, EcoTools makeup brushes flawlessly help apply products to your face regardless of skin tone and type. Made from recycled and sustainable materials to make you feel as good as you look with a classic flawless application to match.
• EcoTools Luxe Limited Edition Natural Elegance Luxurious Face Brush Makeup Set includes (1) Angled Complexion Brush, (1) Softer Powder Brush, (1) Tapered Blending Brush, (1) Concealer and Foundation Brush, along with (1) Angled Liner Brush
• 5-piece makeup brush set allows you to achieve a gorgeous, full-faced look on your face, cheeks, and eyes with luxurious, professional results
• EcoTools makeup brush kit was designed with finer cut, ultra-soft bristles and sleek pointed handles for better precision and control
• The Angled Complexion Brush in our Luxe Makeup Brush Set has a fluffy, angled brush head for applying liquids, creams, or powders for buildable coverage and foundation brush
• Our Soft Powder Brush allows you to apply powder products including blush, bronzer, setting powder, and pressed powder so you don't use several makeup brushes
• Our luxurious EcoTools Elements Limited Edition Pointed Concealer Makeup Brush can be used to apply concealer under the eye or blemishes and medium to full coverage as a foundation brush
• Use the Tapered Blending Brush from our makeup brush set as a powder or cream brush and blend shadows on your eyelids while using the Angled Liner Brush to create an even, thin line for liquid eyeliner
• EcoTools strives to make all of its products eco-friendly by using recycled materials, with their luxurious brush makeup set. The handles are made with 100% post-consumer recycled materials
• EcoTools strives to make all of its products 100% cruelty-free and vegan while also being PETA certified and never having its products tested on animals, including their makeup brushes
ANGLED COMPLEXION BRUSH: Angled fluffy brush to apply liquids, creams, or powders for buildable coverage. SOFT POWDER BRUSH: A multitasking powder brush used to apply powder products including blush, bronzer, setting powder, and pressed powder. TAPERED BLENDING BRUSH: Flat oval-shaped shadow brush blends cream or powder shadows all over the lid. Pro tip: Use the setting spray on the brush to increase pigment or use shimmer! CONCEALER BRUSH: Use to apply concealer under the eye or on blemishes with medium to full coverage. ANGLED LINER BRUSH: Small, angled bristles create an even, thin line for angled liner. Use to line the eye or fill in brows.
Clean weekly with our EcoTools brush and sponge cleansing gel for improved performance.

Precautions: Do not use on irritated, damaged, or broken skin. If irritation develops, discontinue use immediately.